Monastic Liturgy Forum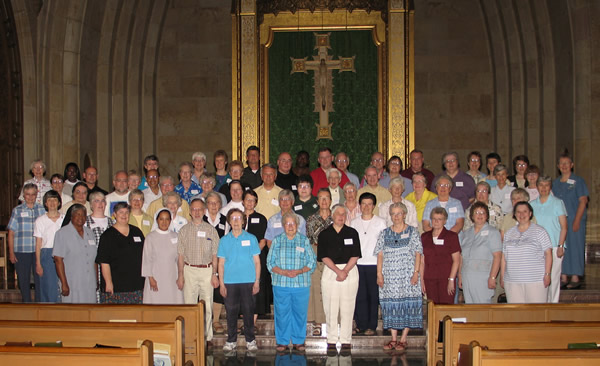 2007 - 11th National MLF Conference
was held at Sacred Heart Monastery in Yankton, South Dakota, July 17-21, 2007, in conjunction with the Benedictine Musicians of the Americas.
The theme of the conference was "Changing Realities: Living the Monastic Tradition in the 21st Century." The keynote addresses on the theology of aging were given by Father Raymond Studzinski OSB and gerontologist Dr. Beth Mikkelson. These were followed by a panel presentation addressing the material presented by the speakers and the particular observations and questions brought forth by an online survey.
The panel consisted of Prioress Cecilia Dwyer OSB, Prioress Anne Stedman OSB, Prior Tobias Colgan OSB, and Subprior Paul Richards OSB. Group photograph.
The Forum
The Forum, active for over 15 years, grew out of the sharing of ideas, resources and problems by liturgists attending monastic workshops and meetings of the Benedictine Musicians of the Americas. They realized that their needs were not being adequately met by these events.
Male and female Benedictine and monastic liturgists have, therefore, gathered in recent years to explore topics ranging from the liturgical year and Liturgy of the Hours to rituals and blessings in monastic houses.

For more information send an e-mail to the Membership Secretary: DMoorse@csbsju.edu
Rev. 23-Jun-08 © Copyright 2002-2006 archive.osb.org/mlf/
Monastic Liturgy Forum
Membership Secretary
Saint John's Abbey
Collegeville, MN 56321-2015
Links
OSB Website
OSB Liturgy Resources
Our Lady of Grace Monastery
Saint John's Abbey